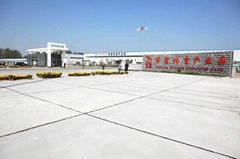 Jiangsu Junxia Gym Equipment Co., Ltd. was established in 1973. Our company has begun producing and exporting sports gears and fitness equipment since 1989. In 1995 cooperate with China Olympic champion Ms Wang Jun Xia and named with "Jiangsu Junxia Gym Equipment Co., Ltd.
We have experienced 30-year market development. There are more than 800 employees now, 256 of whom are outstanding professionals. Covering an area of more than 150000 square meters, the company enjoys a garden-like environment. With imported 40 Otc and Panasonnic welding robots, 4 powder coating lines, 10 assembly line and hundreds of advanced automotive facilities, as well as strong research and development capabilities and productivity, we have developed new products of more than 100 kinds, and manufacture more than 1 million sets of fitness equipment annually, becoming one of the top enterprises developing and manufacturing fitness equipment in the world.
Over the past 10 years, our products has sold well in the European and American markets, where we have established research and development center and logistic and service system. Now Junxia fitness equipment can be found in the boutiques of department stores in major big or medium-sized cities cross the country. There are more than 50 after-sale service sectors and 8 major centers of coordination goods. More than 150 workers of after-sale service with powerful ability of service and after-sale service can supply high-quality service for customers. Productions of home and commercial use are favored by gym-goers. Therefore products have passed the quality sampling by the National Sporting Goods Inspection Center, the ISO9001 Quality System Certification. We are recognized as one of "the 10 Famous Brands", "National High-quality Products", "China Famous Brand Products" and "Exemption Product Quality". The quality has reached the international advanced level. All products are insured against liability insurance from PICC.
We take a