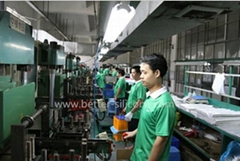 Xiamen Better Silicone Imp/Exp Co., Ltd, as a united corporation, which specialize in producing silicone/rubber/plastic/LSR (liquid silicone rubber) parts and mold tools.
Four Production Plants: 1. Mold-Making Plant; 2. Silicone Rubber Plant; 3. Plastic Injection Plant; 4. LSR Injection Plant.
As a factory managerment cooperation, we focus on improving each factory production efficiency and take full advantage to enjoy customer's demands and meet marketing demand.
Aim to improve make-making technology, company try best to bring in better technologies, talents ect.
Dispensable Fast Reaction: Mold-making, Silicone/rubber/plastic/LSR Plants, experienced technical perons, and managerment system etc.
For better quality and service is our motive force source.