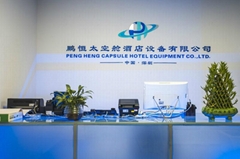 Company Orientation: Shenzhen Pengheng Capsule Hotel Company:uphold the company philosophy fashion,technology,Eco-friendly,focus on producing capsule sleeping bed,as a company belongs to Pengheng Hotel Management Company,on researching,designing,producing and selling.Our head office company has been on investing and managing many five-star-hotels,with more than 20 years experience on that.Depends on this,we are ensure that we could serve our customers all in one with hotel design,franchisee shop management,capsule sleeping bed offering,hotel management.With the sample hotel,we offer our customers with intuitive experience ,and make sure every customer will get the best idea of capsule hotel.
For Solution: The traditional hotel is low revenue,high room price,less number of rooms,low space utilization,simple social,bad sleep feeling and other problems with customers. We are working on the special hotel and same time enhancing competitiveness,and increasing the profits; our capsule sleeping bed with the origin of french master design,team work with our own design team,with plenty times reassembling and disassembling,during 8 months,the new capsule sleeping bed official on market,we have already have the 2015 style capsule sleeping bed,which is more luxury and more humanity,and changed of our mind about the feeling of sleeping in a traditional hotel.
Advantages: Base on space efficient,the new capsule sleeping bed with more beautiful appearance,and more bigger inside space,we also add more safety facilities,with android TV,safe-box,sliding door and smart lock,more simple for our customers,high quality Eco-friendly material ,high international standard,lifetime maintain,with many years hotel management experience,provide our customers more comprehensive advise,design our customers new hotel freely,for different area with different offer,try to serve you the best perfect capsule hotel,which you can also learn more from our intuitive sample hotel.
Timeline___