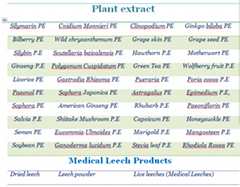 The Nanjing BioDe Co., Ltd, is one of the leading exporters and distributors for herb Extract products in China. We work closely with a selected group of factories in China. All the products which we supply are manufactured and analyzed by a highly qualified and experienced team of chemists ensuring quality products to the valued clients all over the world. The dedicated people and new innovative manufacturing technologies of our contracted factories have enabled our company to supply the highest quality products to our customers worldwide.
Nanjing BioDe Co., Ltd is mainly engaged in selling plant extract, veterinary intermediates, all kinds of Leech products and raw medicine materials in domestic and overseas markets.
Our main products are plant extracts, leeches and leech related products.
The Nanjing BioDe Co., Ltd believes that products quality can establish the brand; Honesty will bring the reputation and good services may create the value.
We commit to continuous improvement, distribution process, quality control and process management. Complying with all applicable regulations, we can guarantee our ability to provide quality products and services for our clients.