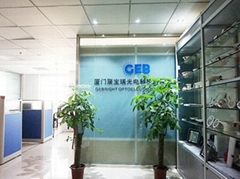 Located in Xiamen, GEBRIGHT OPTOELECTRONIC TECH CO. LTD is one of the hi-tech enterprises specializing in the research, application and sale of LED lights. Our products range from commercial lighting, for instance, LED downlights, LED ceiling lights, LED T5/T8 tubes, LED track lights, LED grille lights and LED supermarket fresh lights, to industrial lighting, such as LED high bay lights, LED warehouse lights, LED floodlights, LED tunnel lights, including some LED street lights and LED landscape lights.
Performing Strict Tests in Our 10,000sqm Factory Our products are made in our super-clean, dust-proof and antistatic factory of 10,000 square meters. We use integrating spheres, light distribution curve testers and dark rooms, weatherometers, and climatic simulation chambers that can simulate the environment of -70 to 150 degree Celsius to test our products.
Meeting CE, RoHS and SAA Standards Because of our strictness in the whole process, we have obtained ISO 9001:2008 and ISO 14001:2004 approvals. CE, RoHS and SAA certificates are obtained and UL, DLC, LED Lighting Facts and Energy Star are also under applications.
Light Sources Only Sourced from Honglitronic In addition, all the light sources are from the listed enterprise - Honglitronic, which ensures the stability of light source and good quality of color temperature.
Work with Us Today As a newcomer in LED industry, we are dedicated to the more energy-efficient LED lighting and take the concept of client-oriented to provide differentiated products for clients' diverse needs.