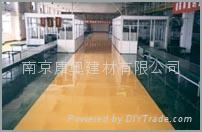 Products: high wear resistance of PVC plastic flooring (PVC floor) PVC anti-static floor (anti-static raised floor) Don't get angry hardening floor, silicon and titanium alloy hardening floor High quality solvent-free epoxy resin floor Floor processing -- super wear penetrant Color wear-resisting ceramic water paint No shrinkage of cement-based grouting material Commercial self-leveling cement mortar Acid-resisting cement mortar, anti-static cement mortar Alkali cement mortar cement mortar, not angry Radiation resistant, oil resistant cement mortar cement mortar Professional industrial flooring production enterprises, enterprises production, installation, construction, service integration management mode.
The company has established a perfect sales network in China, and sales channels, good after sale service system.
website: http://www.njkao.cn Manufacturer: Nanjing kang'ao constructional material Co. Ltd.
Tel: 025-8448246184235676 E-mail: njkao@tom.com