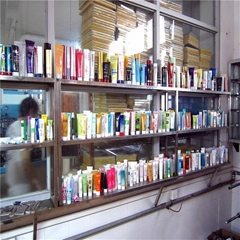 LIXIN makes packaging for Cosmetic tube , that beautify, that pro-environment ,that Collapsible . We are known worldwide as a manufacturer of aluminium and plastic tubes, as a partner for the cosmetics and pharmaceutical industries.
We are the leading manufacturers of Aluminum cosmetics Tubes,Plastic Laminated tubes,PE Cosmetics Tubes,Toothpast tube;We are supplying our product to the pharmaceutical,tooth paste ,Adhesive,Toiletry ,cosmetic industries .
Our packaging business has a long and successful history.In fact, our expertise as developers and manufacturers of packaging for the pharmaceutical,health care,personal care and industrial markets has been respected for over a decade.
LiXin Development Industry Co., Ltd. Has a building area of 10,000 square meters . We have the most modern machinery and skilled staff to ensure quality,dimensional accuracy and alignment.We are committed for satisfying our customers by supplying them with quality products as per their requirements.
We will offer the high quality products for you .Welcome to contact to us , if have any industry-specific questions .We will be glad to so e any problem for you , try our best .