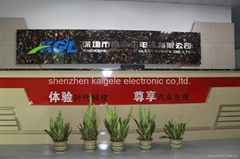 Company Information: The most professional manufacturer of 6.2"\7"\8"Touch screen car dvd player GPS Navigation with the newest Android system\MTK-A9 platform car dvd audio player in china for BMW Audi Benz VW Peugeot Citroen Toyota Honda Ford JEEP Chevrolet Renault Mazda Fiat Opel Kia Great Wall Suzuki LiFan Geely TOYOTAHilux SsangYong Hyundai Buick Chery Nissan Nissan and Universal.
Shenzhen Kai Ge Le Electronics Co., Ltd. was established in 2007, with our own brand of Hui Fei. Our company is specialized in car entertainment products, Products include: - DIY illumination 776 car DVD player Series - 1080P A9 car DVD player Series - A4 Platform car DVD player - Android 4.2.2 car DVD player - Car DVD player for German Cars - Car DVD player for Japanese Cars - Car DVD player for American Cars - Car DVD player for French Cars - Car DVD player for Korean Cars - Car DVD player for Great Wall Series - Universal car DVD player Series We aim to give you the quality and stability products. We have a professional product base and a research center, including mold center, SMT process center, assemble factory and sales office. By steady efforts, many products are the top sale in Ebay. In the last few years, we have been one of the major players with Toyota LEXUS and LightInTheBox.
Not only that, we also customize products for clients. Just tell me your needs, we will work to exceed your expectation though our competitive prices, quality, reliability, on-time delivery and the highest standards of services.
We are committed to developing strategic partnerships with customers. To give you worry-free service is the goal of HuiFei.
Contact: Skype:nicole100633 Mobile&whatsapp:+86 13265876960