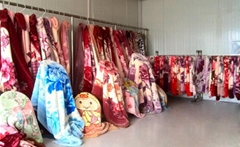 Rong Mei Textile(RM) founded in 1997, is located in Foshan and New Rong Mei(NRM) Textile, newly founded in 2011, located in Jiangsu. Mark Rise(MR) is the export department of NRM Textile.
With investment of 126 million RMB, and area over 100 arces New RM Textile has started operation. Annual production of New RM Textile is 2.6 million pieces and over 50% blankets are exported to Europe, America, Middle Africa, India, Southeast Asia, etc.
329 equipment include warp knitting machines, weft knitting machine, texturing machine, circular knitting machine, boarding machine, perching machine, combined shearing machine and automatic printing machine, etc.
With imported raw material and advanced techniques, our blankets have a wide variety of colors and designs. Soft, comfortable, bright, dampproof, mothproof, antistatic, warm, colorfast, washable durable, economical, enormously popular and famous as our products be, favourable comments and approvals are received from our customers.