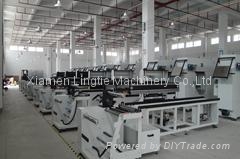 With mature technology and over ten years' experience in automatic screen systems, now Xiamen Lingtie Machinery Co., Ltd. supplies equipment for Lenovo, Sanyo, Sony, Nokia, LG Electric, Panasonic, Siemens, Philips, Omron, Haier, Midea, etc.
Xiamen Lingtie Machinery Co., Ltd. is located on Xiamen Island, Fujian Province, China. We are a manufacturer specialized in automatic screen printing machines. We have the right machines for your screen printing applications. We bring you the experience gained from building many screen printing machines for many specific industries.
Our multi-function screen printing machines are used in roll heat transfer film (PET/PVC/PE/PE/PP/BOPP), IMD, nameplate, membrane switches, soft circuit boards, adhesive label stickers, non-woven fabric, etc.
Xiamen Lingtie Machinery Co., Ltd. has passed ISO9001:2008, IAF & CE certifications and Onsite Check launched by Alibaba.com for "Gold Supplier Member in China (Mainland)". The business license and contact information for each member is verified by a third party verification agency.
A custom screen printing machine somewhere else is a standard item for us.