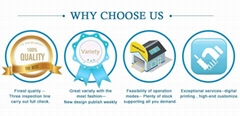 GIA = Good faith + Innovation + Altogether wins GIA is a professional designing and manufacturing company for upper-middle end digital and electronic accessories. With help of our market team, designing team and professional sales team, we provide one-stop service to customers, from a conceptualized blueprint to finalized marketable products. Our long-term business partners include many top brands in North American and European countries.
GIA products: 1. All kinds of laptop briefcases 2. All kinds of camera bags 3. All kinds of GPS cases 4. MP4, 3G mobile phone case 5. All kinds of neoprene products.
GIA materials: The top imported cowhide (having the international authentication), PU leather, PC material, EVA material, neoprene material and so on.
We also warmly welcome OEM orders for more challenges and better progress, enjoy your life with gia innovative protector, please come and have a talk, you will find we are just the one you are looking for - trustable, fashionable, professional and convenient.