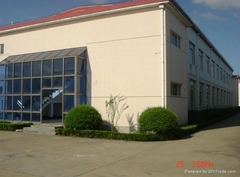 Sean Hardware Tools was founded in Taiwan in 1997, the beginning committed to the development and manufacture of hardware tools , pneumatic tools, machinery and industrial goods , accumulated after 20 years of development , has pitched a good foundation , including the excellent R & D team , independent factory , complete sales channels and warehouse distribution system. The company's products include: India equipment : stripping machine , pneumatic stripping machine Polished categories: pneumatic grinders , pneumatic polishing machine , electric wire drawing machine, Air Grinder , air pens , air file , pneumatic belt machine, pneumatic grinder , grinding machine , pneumatic spot mills .
Spraying Tools : gun , pneumatic diaphragm pumps , pneumatic mixers, automatic gun , Disheveled gun .
Assembly Tools : automatic wind granted, pneumatic screwdrivers , pneumatic wrenches, air guns , riveters , rivet guns, rivet nut gun .
Automotive car care Tools : pneumatic grease , oil pneumatic , pneumatic wrenches, air guns , car polishing and waxing machines, ratchet wrenches, and other products are exported to Europe, America, Southeast Asia, and other regions , the customer 's recognition and support .
Brands are: Sean Taiwan , Taiwan Jiulong , Japan Shinano , Japan Iwata and other famous brands ! ! With the mainland's reform and opening up , the rapid economic development , in April 2009威西恩tool set up branch offices in Shenzhen , head of marketing and service mainland China, in support of the Corporation , the Taiwan Sean Hardware Tools ( Shenzhen ) Limited currently has a perfect storage system , a high-quality sales team of young and experienced after-sales department . In a professional , efficient and ideas for your service, customer satisfaction is Wei-speed pursuit , the interests of its clients is Sean who benefit ! Super people have been moving forward ! Wanted dealers now facing the country !