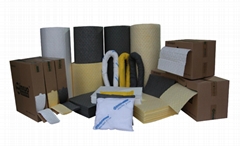 Classical Cases Shanghai Xinluo New Material Co., LTD. Leakage of crude oil pollution in Bohai Sea, 2005; Oil spill in Guizhou Power Station, 2006; Oil spill clean-up in Xianyou, Fujian Province, 2007; Blue algae control program in Dianshan Lake and Taihu Lake, 2008; Pipeline Burst in Changqing Oilfield, 2009; Oil Spill in Mexico, Ruptured Pipeline Exploded in Dalian, Oil Spill in Jinzhou City, Environmental Protection for The Olympic Games in Qingdao, Asian Games in Guangzhou, 2010.
Now we are qualified supplier of Sinopec, PetroChina, CNOOC, also have been exceptionally recommended by Environment Center of Transportation Department of China, Shanghai maritime bureau, Shanghai Marine Salvage Authority, Yantai Maritime Bureau, Rizhao Maritime Bureau, Guangdong Maritime Bureau, Shanghai Communication Bureau, Shanghai Maritime Bureau in many district, Airline Company, Shanghai Baosteel, Anshan Iron and Steel Company, etc. Our products are exported to Japan, Russia, America, Netherland, England, Brazil, India, Malaysia, Australia, Taiwan, Hongkong etc.
The Environmental of ocean rests with every one of its citizens. We should share responsibility for environmental protection and Safety Protection.
"We have only one earth and living under the same sky, let's work hand in hand, give beauty back to the nature; We have only one earth and living under the same sky, let's heart linked to heart, build new environmental area…"