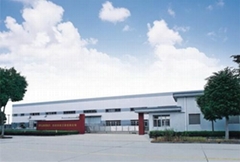 Welcome to Sunrisegroup.com Your reliable and trusted partner, to be your preferred and trusted supplier offering cost effective one- stop solution.
SUNRISE GROUP INDUSTRIAL CO., LTD is a professional manufacturer of Powder clutch & Brake, electromagnetic clutch & bake, air clutch & brake, air shaft, pneumatic, hydraulic disc brake, safety chuck and aluminum alloy guide, position indicator , industrial handles etc... Due to the positive image and quality products, it has gained a large share of the market, along with the products sold in over 30 countries and regions, including US, German, UK, Norway, Sweden, Japan, Korea and eastern European countries etc...
Last but not least, SUNRISE has been able to transcend other related manufactures in Taiwan in terms of our product quality with competitive price and the after-sales service as well as prompt delivery schedule.
Our company is still relatively flexible towards quick market changes and is also able to actively serve our customers on a global basis. SUNRISE welcomes all inquiries regarding latest product releases, and information will be supplied immediately.
Our mission is to offer our customers exceptional quality products with competitive price supported by superior technology. That is why we constantly seek ways to innovate our products by boldly challenging existing technology.
Our overall development plan holds that: introducing more senior technical personnel and talented managers, significantly improving the technology and development capacity and management level; substantially taking advantage of international cooperation opportunities, learning and assimilating world leading technologies to enhance the core competitiveness of the corporation; striving to become one of the international influential and national top-ranking enterprises within the next 5 – 8 years.