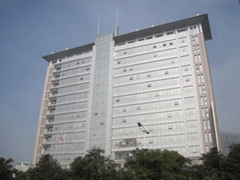 Hangzhou Foreign Economic Relations and Trade Service Co., Ltd., founded in 2000, is one of the largest integrated international trading group, state-owned, 500 top in China. We focus on Chemicals, Light products and textiles business.
Chemical division, formerly trigger chemical, is the most important division in our group. It is the leading chemical supplier in China with 18 years industry experience, is committed to developing advanced and innovative chemicals in the market, marketing high performance and cost effective chemicals to our valued customers in the world. Now, we are mainly engaged in Epoxy Additives & Resins, Polymer Additives, Paper Chemicals, Pharmaceutical Chemicals, Food & Feed Additives and Specialty Chemicals.
TRIGGER, is the trade mark of the chemicals we deal, it represents the meanings of "Accurate, Quick, Efficient".
We are proud of our passionate and talented employees of our company. We have professional technical team and sales team to guarantee the best services to our customers, and provide a variety of business solutions and services designed to the different demands from customers. We are always sourcing materials from superior factory only, and have established reliable and stable relations with our factories. We conduct sustainability assessments on our factories, and ensure they meet our strict requirements for responsible business contracts. Our excellent knowledge and expertise help us to win the confidence and trust from our customers and establish reliable partnership on long term base.
We pay high attention on environmental protection, health care and social responsibility. We execute strictly against ISO 9001 system on company management, business contract and quality control. We insist on the business idea of "Cooperative, Pursuing and Innovative", and would like to create a bright future with our customers under mutual benefits.
Thank you very much for your visit to our website!