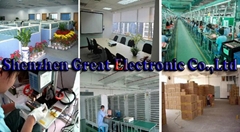 Shenzhen Great Electronic Co.,Ltd has been a leading manufacturer of battery and charger in China since 2011.
In order to expand our overseas business and develop some new products we set up a group company "Gorido Group limited" at the beginning of 2017.
If you have any demands such as:Camera&vedio accessories(battery,charger,lens,bag,memory card,light...),Cellphone and accessories( battery,charger,cable,case,housing,LCD,lense,earphone,blutooth,Microphones,Speakers...) ,Customer electronics( 3D glasses,Smart Watches,Camera Drones,Smart Remote Control,Smart Home lectronics,Surveillance Cameras,computer accessories...) ,Gifts,Toys,Home and garden tools,Sports & Action Video Cameras,car electronic,metal display etc.,please no hesitate to contact us,we'll try our best to help you,thanks.
With a team of advanced managerial, engineering, technical and professional marketing staff, we also have over 200 skilled personnel responsible for manufacturing, R&D, quality control, marketing and service provision. We can thereby offer our customers the best quality products at a good price, with prompt delivery and excellent services.
Boasting a 5,000 square meter factory, we now output 10,000 products on a monthly basis. Welcoming all interested companies to visit our plant, we look forward to cooperating with you in the near future.